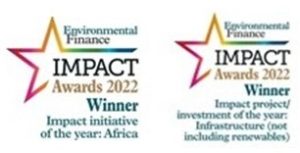 ARISE Integrated Industrial Platforms (ARISE IIP), the pan-African developer and operator of world-class industrial parks announced today that it has been named the best "IMPACT Initiative of the year : Africa" and the best "IMPACT project/investment project of the year : infrastructure" in the IMPACT Awards 2022 Annual Celebration. Environmental Finance's IMPACT Awards are an industry-reference. They seek to recognize and reward the work of impact investors and highlight emerging pockets of best practice, across all asset classes and all geographies.
According to the panel, those two awards are in recognition of:
– The sustainability embedded in ARISE IIP's operations: "ARISE IIP has sought to address a "time old issue" for emerging commodity rich economies: delivering sustainable production and economic growth while providing traceability and certification of supply chains".
– The innovativeness of ARISE IIP's model allowing for impact investment: "Another judge called ARISE IIP an "innovative organisation" that is "supporting environmental, social and governance (ESG) agendas in high ESG-risk sectors in emerging and frontier markets".
For the past few years, ARISE IIP experienced a remarkable expansion across West Africa with tailor-made industrial zones accelerating the continent's industrialisation. ARISE IIP's primary focus has always been the creation of industrial ecosystems committed to generate high local value add along with sustainable growth. This acknowledgement by Environmental Finance perfectly exemplifies how ARISE IIP's impact investment initiatives and business model are paving the way for sustainable finance.
"We are very proud of these awards which reward our efforts over the past years. I would like to take this opportunity to thank all our dedicated talents who are involved in the ARISE IIP journey. These are really their awards. Innovative ESG approaches and infrastructures are an integral part of our DNA, and this additional recognition serves as proof of our commitment to help drive the African continent's sustainable industrialization."

Gagan Gupta, cofounder and CEO of ARISE IIP
---
About Arise IIP
ARISE Integrated Industrial Platforms (ARISE IIP) is a pan-African developer and operator of world-class industrial parks committed to making Africa thrive. We identify opportunities in commercial and industrial value chains across Africa, and conceive, finance, build and operate the necessary infrastructure, playing a catalytic role in supporting countries to transition to an industrial economy. We are driven by the pursuit of green growth; our ambition is to unlock the continent's industrial potential while neutralising our carbon emissions and climate impact. ARISE IIP is currently present in Benin (GDIZ), Togo (PIA), Gabon (GSEZ), Côte d'Ivoire (ZIC), and more. GSEZ was ranked the world's best special economic zone in the timber sector (2020 FDI ranking).
About Environmental Finance
Environmental-Finance.com is an online news and analysis service established in 1999 to report on sustainable investment, green finance and the people and companies active in environmental markets. The site is updated every day with news and analysis on a range of related issues – from finance, deals and investments to policy initiatives, interviews and opinion pieces. All material uploaded to the site is archived and easily searchable. Our content is organised into seven channels (listed on the navigation bar) and each is divided into news, comment and analysis so that you can quickly find the stories of interest to you. And because we know people are increasingly accessing content on mobile devices, our website is fully optimised to work across smart phones, tablets and desktop computers – making it easier to read our content wherever you are. To ensure you stay up-to-date, we send out three weekly email alerts letting you know what's new on Environmental-Finance.com. Our online service is complemented by a quarterly Environmental Finance magazine which rounds up and reviews the best of the quarter's online content and also includes new reports, guides, research and analysis.